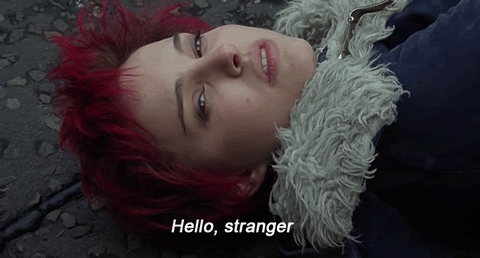 You found me...
"The thought police would get him just the same. He had committed--would have committed, even if he had never set pen to paper--the essential crime that contained all others in itself. Thoughtcrime, they called it. Thoughtcrime was not a thing that could be concealed forever. You might dodge successfully for a while, even for years, but sooner or later they were bound to get you."
See that? How easy it was to find me?
They'll find you too....
por cada día
mouth
hands
eyez
music
Comments?
April 3, 2013
April 3, 2013
So now what?
shattered thoughts of you are all over me I feel them as I move about my day. You tap me on the shoulder when the think of you. I swear I jus felt you near. I swear I heard you say my name. I remember that sweet sound when you held me close sayin that you cared. I told you to run from the beginning. That I was no good for you. That you were no good for me. I asked you to be the character in my story and there you were, waiting and wet for me. Begging, making me beg, like I had done all my life. Give me more. Vampire habits. I go home and masturbate to thoughts of you, violent thoughts, violent sex, things you never did but I wished you would, you coward. I go home and I masturbate furiously, one orgasm after the other after the other. I send intentions out into the universe, sex magic up my crown out my head. I know you feel me when I fuck myself thinking about you. I can be at two places at once. I think about all the ways you hurt me, emotionally, verbally. Your disregard for my feelings. i submitted again to your boi-ish charm, your sex appeal promises and failed deliveries. I was very aware of the situation I put myself in. It could ONLY have played out like that. My teacher was me all along. What do I need you for now Ryan? Idk why I want you back so bad. My fucking ego pines and pines and craves and craves your attention and affection. I wish this wasn't the case but it is. SO NOW WHAT?
April 2, 2013
(via welcometomywonderland)
March 26, 2013
"find me now. before someone else does."
— haruki murakami, 1Q84. (via dowries)
(via ursaminorc27)
March 26, 2013
(Source: theluciferia, via reflectionofmylove)
March 5, 2013
(via dynastylnoire)
November 30, 2012
(Source: mannygekyou, via xsaylumx)
November 30, 2012
Alina Szapocznikow
(via flwrcouture)
November 30, 2012
(Source: kittenmeats, via dweebiedude)
November 29, 2012
(via ch0chalapan0cha)
November 29, 2012
(Source: movingthestill, via thirstingaintdead-deactivated20)
November 29, 2012
(via thisisrabbit)
November 28, 2012
(Source: invocandum, via ch0chalapan0cha)
November 28, 2012
(Source: alamaquina, via a-la-maquina)
November 28, 2012
(Source: likeafieldmouse, via wanderlusttt)